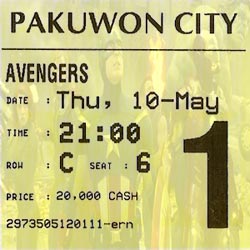 Akhirnya bisa menulis soal film The Avengers. Ya, basbang memang. 😀
Sebelumnya saya sudah pernah menonton film Hulk, Iron Man, The Incredible Hulk, Iron Man 2, Thor, dan Captain America: The First Avenger yang para tokoh utamanya muncul di film ini.
Sebagai penggemar kisah superhero, meskipun bukan termasuk "penggemar tingkat tinggi" yang sampai mengoleksi segala macam pernak-perniknya, sebenarnya saya sangat senang bisa menyaksikan berkumpulnya banyak superhero sekaligus dalam satu film seperti di The Avengers ini.
Tapi jika Iron Man (Robert Downey, Jr), Captain America (Chris Evans), Hulk (Mark Ruffalo), Thor (Chris Hemsworth), Black Widow (Scarlett Johansson), dan Hawkeye (Jeremy Renner) hanya sekadar muncul bareng dalam sebuah film, tentu saja akan terasa biasa dan hambar.
Continue reading…