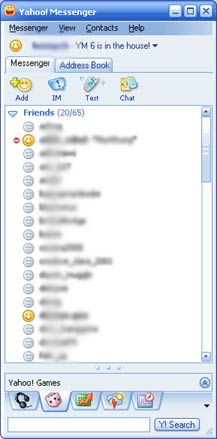 Akhirnya keluar juga Yahoo! Messenger versi 6.0, setelah beberapa minggu sebelumnya kita harus puas dengan tawaran versi BETA-nya. Ada banyak perubahan dan fitur-fitur baru yang ditawarkan dalam versi kali ini. Di samping penambahan sejumlah emoticon baru, ini dia sejumlah fitur baru yang ditawarkan:

LAUNCHcast Radio
Listen to LAUNCHcast Radio. Make your own radio station and listen to the music you like! Your online status message shows people what you're listening to.
Yahoo! Games
Challenge your friends to classic Yahoo! Games without leaving your message window. Games include Word Racer, Checkers, Chess, Dominoes and more. See your friends' high scores for selected one-player games.
Yahoo! Avatars
Create a stylized graphical image with clothes and accessories to represent yourself. You see Avatars in your Messenger List, and when you and your friends exchange instant messages. See Yahoo! Avatars
Display Images
Select an image to represent yourself to your friends. Use your photo, or something even more creative.
Audibles
Send people these talking animated characters to say hello, goodbye, flirt or taunt your opponent during a game.
Skins
Yahoo! Messenger comes with new visual designs. Choose Yahoo! Purple, Cool Blue or the standard Windows look and feel.
Stealth Settings and Privacy
Make yourself appear online to some and offline to others on your Messenger list. You can permanently ignore people who send you spam or annoying messages through IM.
Address Book
Synchronize your contact information – IM, phone numbers, and email addresses – with integrated Yahoo! Address Book.
Search
Search directly from an instant message window. Type s: [search term] to display Yahoo! Search results in a conversation.
So, tunggu apa lagi?!! Hayo, langsung download aja! 🙂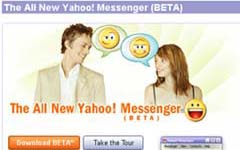 Btw, yang sedikit lucu dan tergolong kurang penting sih, ternyata halaman untuk versi BETA tadi masih belum 'dibersihkan'… masih tetap aja menawarkan YM versi 6 BETA. Untungnya, link buat download yang ada di situ gak keliru ngambil yang versi BETA beneran karena sama-sama diarahkan mesti download file bernama msgr6suite.exe yang sebenarnya gak penting 😛
update:
untuk download langsung YM 6, ternyata bukan ke http://download.yahoo.com/dl/installs/ymsgr/ymsgrins.exe melainkan ke
http://download.yahoo.com/dl/installs/ymsgr/ymsgr_1643.exe. Maaf bagi yang sudah sempat salah mendownload… 😳 :worthy:
(info link download yang benar gw dapat dari
sini)