Saya mengucapkan selamat kepada The Jakarta Post yang baru saja meluncurkan aplikasi resminya untuk pengguna Firefox OS. Selamat juga kepada Budi Putra (CEO of The Jakarta Post Digital) dan Kristiono Setyadi (CTO of The Jakarta Post Digital) beserta tim yang berada di balik pembuatan aplikasi itu.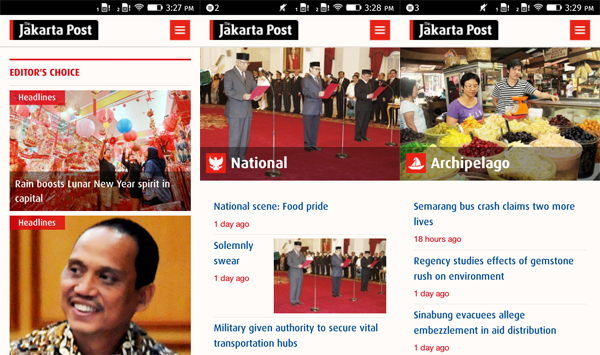 Menggunakan nama "JakPost News", aplikasi milik harian berbahasa Inggris terkemuka di Indonesia tersebut telah tersedia di Firefox Marketplace sejak akhir Januari 2015 lalu. Pengguna Firefox OS sudah bisa menggunakannya.
Yang menarik sekaligus membanggakan, setahu saya, The Jakarta Post adalah media pertama asal Indonesia yang aplikasinya hadir secara resmi di Firefox Marketplace. Keren!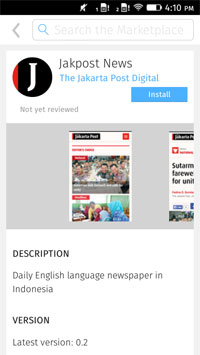 Kehadiran aplikasi JakPost News disambut gembira oleh Mozilla. Selain disampaikan oleh Diane Tate, Program Manager Mozilla Developer Engagement, dalam rapat mingguan, kabar gembira itu juga turut disebarluarkan oleh John Bernard, Global Marketing Director Mozilla, lewat tweet-nya. Ada pula Desigan Chinniah, Head of Global Mobile Partnerships & Business Development Firefox OS Marketplace, yang memberikan dukungan teknis.
Sedikit menengok ke belakang, bisa dibilang, rencana menghadirkan aplikasi resmi The Jakarta Post untuk pengguna Firefox OS muncul dalam obrolan ringan antara saya dan Budi ketika bertemu di sebuah kedai kopi di Surabaya sekitar bulan Oktober tahun lalu.
Balik ke Jakarta, Budi segera membicarakan rencana itu dengan tim The Jakarta Post Digital. Selanjutnya, pelaksanaan persiapan pembuatan aplikasi JakPost News untuk Firefox OS dipimpin oleh Kristiono. Dalam prosesnya, sesekali saya turut memberikan saran hingga akhirnya aplikasi itu diajukan ke Firefox Marketplace pada akhir Januari 2015 lalu.
Setelah ini, semoga segera ada lagi media dari Indonesia yang segera menyusul untuk ngopi-ngopi, eh meluncurkan aplikasi untuk Firefox OS juga. Ditunggu kabarnya!