Hanya dalam tempo kurang dari 24 jam (sekitar 13:40 jam) sejak dirilis secara resmi (Wednesday, June 18, 2008 at 18:15:00 UTC time atau 18 Juni 2008 jam 01:15 WIB), Firefox 3 telah di-download sebanyak lebih dari 5 juta kali! Tadi sekitar pukul 14.55 WIB sudah mencapai angka 5.005.809! Dan itu masih bertambah terus setiap menitnya hingga jam 01.15 WIB besok. Wow!
Screenshot di halaman Spread Firefox Download Day 2008 sekitar jam 14:55 WIB: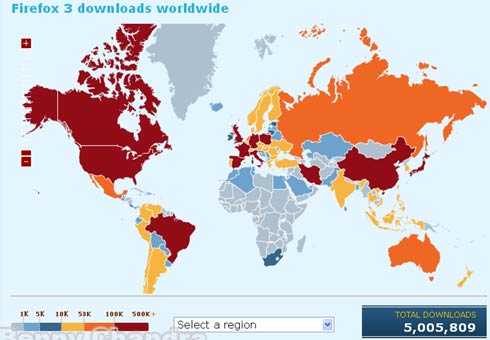 (Pada saat itu, download yang dilakukan dari Indonesia baru mencapai angka 13.321).
Screenshot dua menit sebelumnya (14:53 WIB):

Telah tertembusnya angka 5 juta dalam waktu kurang dari 24 jam berarti sudah melebihi target yang diinginkan oleh pihak Mozilla untuk Download Day 2008.
We'd really like to outdo the number of Firefox 2 downloads on its launch day, which was 1.6 million. Let's shoot for 5 million–the sky is the limit!
Congrats! Makan-makan!™